ABOUT COMPANY
Prodigy Assurance Adjusters is an independent adjusting company offering nationwide comprehensive claims handling services to the insurance community.
Our Senior Claims Adjusters have a successful track record of servicing all lines: property, casualty, general liability, truck/automobile claims, and catastrophe.
Our nation-wide headquarters is located in Coral Springs, Florida with remote offices strategically placed throughout the southeastern United States.
TOTAL RESPONSE:
Our adjusters are trained to work their investigations in the most efficient and effective manner possible. We always make IMMEDIATE SAME-DAY CONTACT; maintain a file closing ratio
near 1:1; and close most of our investigations in half the time of other leading IA firms. We return value to our clients by negotiating settlements & we strongly believe that the only good claim is a closed claim.
SPECIALIZING:
On every assignment the insured, as well as retail agent, is provided both an adjuster and supervisor, specializing in skills and experience specifically tailored to your unique claim niche.
This 'Double Coverage Guarantee' insures that two people are involved in each claim, providing the insured additional means of contact and assistance, as needed throughout the claim process – at no additional cost.
PROPERTY
– Residential
– Excess and Surplus
– Commercial
– Construction Defect
– Catastrophe
CASUALTY
– Auto
– General Liability
– Commercial Trucking
– Liquor Liability
– Professional Liability
OUR MISSION
Our mission is to provide swift, efficient service to our clients and their insured. We recognize that you have many choices in this industry, and when choosing to entrust us with your business, you are also entrusting your client's satisfaction.
We believe that it is our responsibility to promote a positive image to our client's insured. This means that providing quality claims handling while maintaining a superior level of customer service is our ultimate goal. When you look good, we've done our job!
OUR PROMISE
PRODIGY = Extraordinary
ASSURANCE = Declaration of Confidence
Prodigy Assurance, as our name affirms, promises with confidence that our administrators, staff and adjusters will always deliver extraordinary service through the resolutions of prompt, reliable, and accurate claims handling. Earning Trust. Instilling Confidence.
CODY CLARK
President
KATIE CLARK
CHIEF OPERATING OFFICER
MARCELA MAURO
OFFICE MANAGER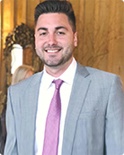 ANDREW HILINS
Director of Commercial Claims
LUKE HUMPHRIES
Director of Residential Claims
RONALD STERN
DIRECTOR OF MARKETING
Stephanie Loftin
Hiring and Training Manager
Jen Enser
Residential Claims Supervisor
ALICIA BOWENS
RESIDENTIAL CLAIMS SUPERVISOR
Craig Enser
Residential Claims Supervisor
Jessica Childress
File Reviewer
Jordan Heymann
File Reviewer
Amanda Greager
Invoicing Administrator
Camila Salas
Compliance Manager